+30 000 followers @beyondactiveofficial
@beyondactive_
Leave review
Kopparförstärkta Kompressionsstrumpor (5 par)
Product doesn't have any reviews yet
A total of 5 pairs of support socks, reinforced with copper at the feet and heels, to help you with blood circulation in the foot and legs. The socks prevent varicose veins, reduce the risk of injury during exercise and help keep circulation up for example. flights.




Thanks to the reinforced sections with copper, you get maximum compression, which also makes the socks last longer than ordinary compression socks that easily wear out.

✓ Reduces the risk of injury
✓ Prevents varicose veins
✓ Copper reinforced for maximum power
✓ Both for everyday use and exercise

Variations:
- 5 pairs of black
- 5 pairs of white
- Mixed colors - 5 pairs in different colros (Black, white, green, pink, blue)

Sizes:
Small-Medium: Shoesize 35 - 41.
Large-Extra large: Shoesize 42 - 49.

Thanks to the compression in the socks, the risk of suffering from heavy and tired legs is counteracted after a long day at work. Ideal for those who are standing or walking a lot during a work day. Graduated compression - stimulates increased blood circulation and thus faster recovery.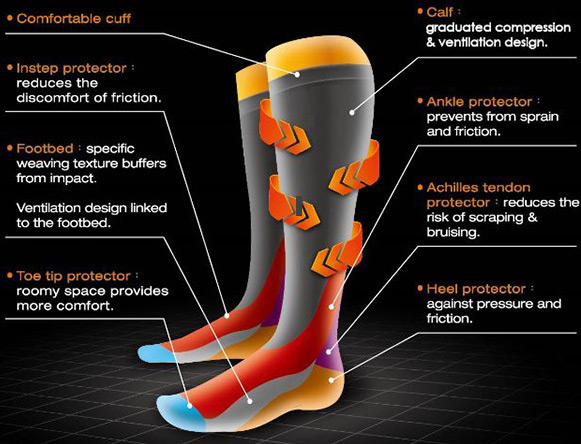 Specification:
Quantity: 5 pairs
Compression degree: 20-25 mmHg
Material: Cotton, nylon and spandex
Machine wash: Yes
Model: Unisex